JOIN US IN PARIS ON A RIVER CRUISE
I HAVE 1 CABIN LEFT ON OUR "SPRINGTIME IN PARIS CRUISE" FOR APRIL 2015. THIS DATE IS COMPLETELY SOLD OUT AND I HOLD THE LAST CABIN IN THE COUNTRY ON THIS DATE. LANETTE AND I WILL BE ESCORTING THIS CRUISE SO IF YOU WANT TO TRAVEL WITH US NOW IS THE TIME. VISIT THE "SPECIAL PACKAGES" TAB FOR ALL THE DETAILS.
---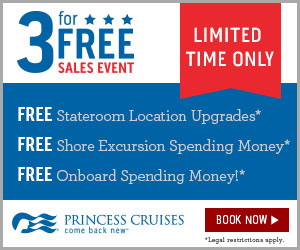 ---

Tahiti, Bora Bora, Moorea and more. 10-day cruise to paradise.
I have just secured new group space on this magnificent cruise departing on June 10, 2015.
Enjoy 50% off the cruise rate, a nice group discount, an additional onboard credit plus included roundtrip airfare from Los Angeles.
This cruise is all-inclusive including all gourmet meals, specialty dining rooms, stocked fridge in your cabin, gratuities, water sports from the drop down marina and so much more.
---
12 Day Roundrip Galveston Cruise
Everybody has been asking when a cruise line will do longer roundtrip cruises from Galveston. Well Carnival just announced one....just one, for the entire year. This cruise will test the market for the need for longer cruises from Texas. If it does well we will get more. However if we don't support Carnival's efforts then they will drop any plans to add more longer cruises in the future from Galveston.

02-Mar- Galveston, TX 4:00 PM
03-Mar- "Fun Day" At Sea At Sea At Sea
04-Mar- "Fun Day" At Sea At Sea At Sea
05-Mar- Grand Cayman 8:00 AM - 5:00 PM
06-Mar- "Fun Day" At Sea At Sea At Sea
07-Mar- Limon, Costa Rica 8:00 AM - 5:00 PM
08-Mar- Colon, Panama 7:00 AM - 6:00 PM
09-Mar- Cartagena, Colombia 11:00 AM - 7:00 PM
10-Mar- Santa Marta, Colombia 8:00 AM - 5:00 PM
11-Mar- "Fun Day" At Sea At Sea At Sea
12-Mar- "Fun Day" At Sea At Sea At Sea
13-Mar- "Fun Day" At Sea At Sea At Sea
14-Mar- Galveston, TX 8:30 AM

If you're interested in more information or pricing let me know.

If we get 5 cabins to go then each couple will receive a $100 ONBOARD CREDIT PER CABIN.
---